Extensive services are available within this modern, spacious convention building; in-house Hotel Gothia Towers with 704 rooms, several restaurants, post office and bank services.
Restaurants, entertainment, parks, theatres and shops – are conveniently located within 5-20 minutes walking distance from the venue.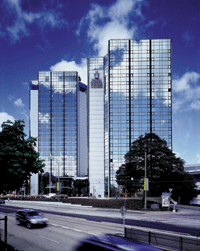 The F Hall is for the Team Championship in Chess 2005. With its flexibility, the F Hall is a fantastic venue for events, exhibitions, banquets or congresses.
The playing hall meets the highest standards. The premises cover 5,000 square meters.
A playing hall and an adjacent leisure area where players and team captains can buy hot and cold drinks, sandwiches snacks etc, as well as sit down and relax.
Next to this leisure area an analysis room, which can sometimes be quite noisy, will be set up. To minimize the risk of disturbance (street noise, shouting or loud conversation etc.) during play, all rooms will be soundproofed. The lighting will conform to all professional requirements. Thus, the competitors will enjoy perfect conditions in the playing hall, while at the same time being able talk freely in the analysis room.
Göteborg Convention Centre add zip and zest to the event. Göteborg Convention Centre has 46 conference rooms of varying sizes and layouts for up to 8.800 guests
The Göteborg Convention Centre is located at the so-called Event Boulevard including the Liseberg Amusement Park, Universeum Science Discovery Centre, Museum of World Culture, Scandinavium Arena, and the famous Ullevi Stadium.